Price: $1000  StrikerVR Release of the somatosensory VR gun mavrik Pro
According to roadtovr, strikervr, an American VR peripheral manufacturer, is launching mavrik pro, a somatosensory VR gun. Although it is still mainly aimed at VR offline experience stores, the company said that it plans to launch a consumer oriented version next year.
Mavrik Pro has now opened reservations to VR offline experience stores and is expected to ship in October. Although this somatosensory VR gun is the most affordable peripheral equipment of strikervr so far, its price is still as high as $1000. Compared with the flagship gun of strikervr, mavrik Pro has three smaller engines inside. The main "thunder" recoil module is used for big bang, which is paired with the "Cricket" module of the front and rear grips to get a more subtle tactile experience.
Mutalk a special sound insulation microphone for VR, will be launched at the end of this year
Mutalk is a Bluetooth microphone with mute function, which can prevent the user's voice from leaking out. The equipment is expected to start shipping between November and December 2022. It is reported that the price of this microphone including tax is about 19900 yen.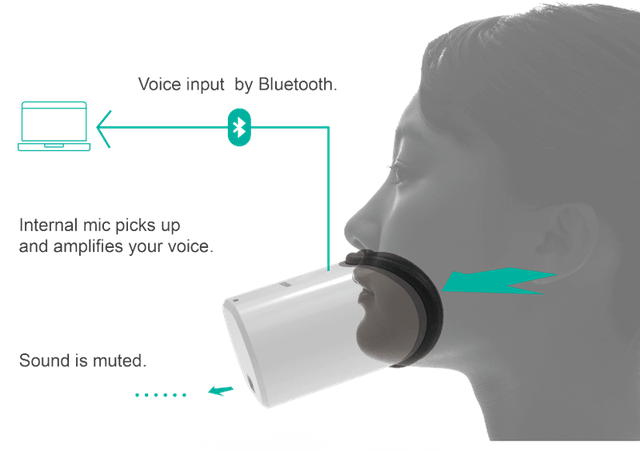 It is understood that mutalk made its debut at CES 2022 held in January this year, attracting public attention with its unique design and functions. The device uses a standard USB type-C data cable, which can be used for more than 10 hours on one charge, and is compatible with windows, MacOS, IOS, ipados, Android devices and VR head displays.
The VR puzzle game "silverette" will be launched on Landing meta Quest 2 in 2023
According to foreign media uploadvr, the VR puzzle game "siloette" developed by Panoptes studio has been approved by Quest store and is planned to be released in the first quarter of 2023. The most famous game produced by the team is the asymmetric VR game panoptic, but the new work is completely different from it. "Silverette" is a puzzle game designed based on Quest's hand tracking technology. It largely avoids the interaction between hands and objects, but focuses on creating shadows with both hands.
The core mechanism of "silverette" is built around the concept of shadow puppets, including 2D small illustrations cast by large spotlights. As shown in the figure, a small shadow creature is stuck on one side of the scene. Players can raise their hands in front of the spotlight and cast shadows on the lighting area. Shadows become a tool to help the creature move from point a to point B. Casting shadows can help players find creative solutions to puzzles, such as creating bridges or blocking water flows through shadows.
Forevr Cornhole, a VR casual game Now login to meta Quest 2
Earlier this year, forevr, the US VR game studio, announced the development of six new games, three of which will be released this year. Today, forevr has brought a brand-new lawn game, forevr Cornhole, which has landed on meta Quest 2 on September 2 at a price of $14.99.
In forevr Cornhole, players can choose between 50 sandbags and wooden boards that support customization. In addition, there are five unique halls, including the Brooklyn roof, the 1990s style arcade and the VCL arena. With the help of YouTube driven jukebox, players can also find music that supports customization and access thousands of songs.